This board is a working pull from my home server which was using this dell xps 435mt motherboard. Supports LGA 1366 processors, I've been running it with an i7920 for about 8 months now. I need to expand my server, need more sata ports and a bigger case for more hdds so I'm selling this board. Works just fine, it IS a Dell board mind you so its bios are pretty much locked down minus boot selection, raid control, and enable/disable Stepping and Hyperthreading. The Bios have been flashed to the latest revision. Asking price is 80USD + shipping (cheap for an x58 board) Also can be flexible. Here is a partial spec sheet.
To sweeten the deal I will also include that pci-e 1x SATA II card which has two extra SATA ports on it.
Note: This is a mATX form factor board. Also, I do not have the I/O panel for this board because there never was one. The original case just had holes punched in sheet metal.
Specifications
Chipset
Intel X58+ ICH10
Processor
Intel Core i7 Processor
Memory
6x 1066 MHz or 1333 MHz DDR3 Memory Sockets (NON-ECC Memory
Only)
Capacities: 1 GB and 2 GB
Minimum: 2 GB
Maxium: 12 GB
Audio
Integrated 7.1 channel, High Definition Audio with S/PDIF support
Expansion Capabilities
Internal ports
3x PCI Express x1
1x PCI Express x16
Peripheral Interfaces
1x RJ45 Ethernet/LAN Port
4x back-panel USB 2.0–compliant connectors
1x Back Panel and 1x Front Panel IEEE 1394 (Firewire) Connector
6x back panel connectors for 7.1 Surround
1x S/PDIF Connector
1x eSATA Connector
Here's an image of it still running in my case.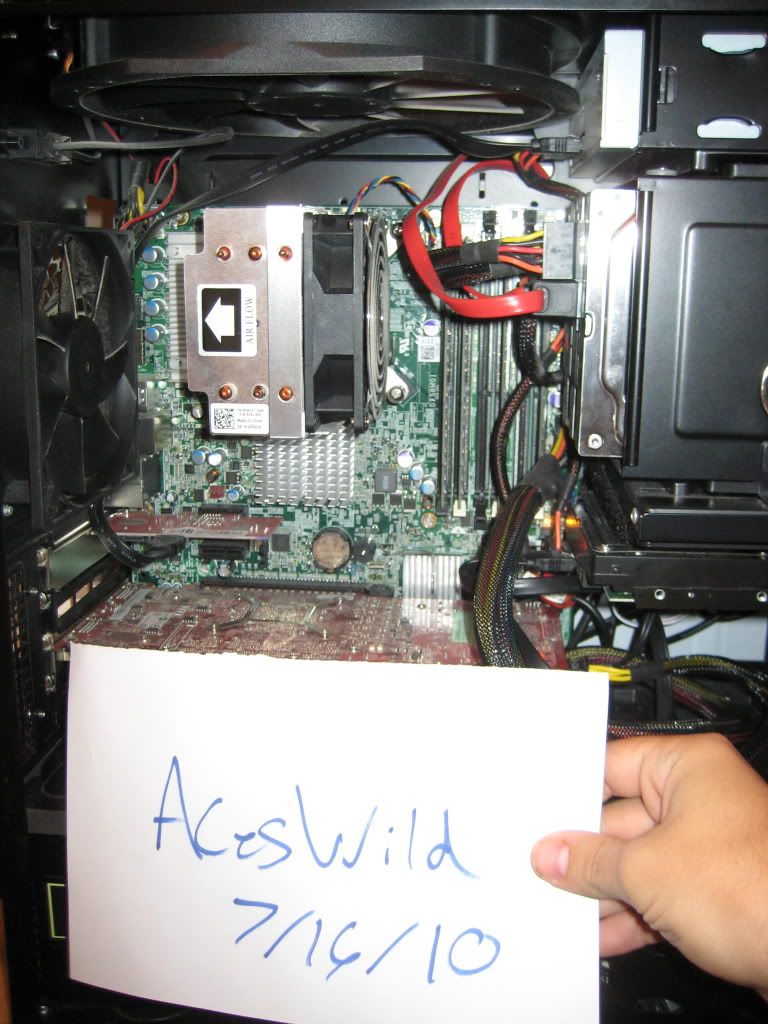 Another side note if you want some laughs, that hdd you see closest to the video card is actually being suspended by industrial strength velcro lol.