Specs:
CPU: Phenom x4 9750
GPU: Radeon 5770 cucore
Ram: 8 gigs of ddr 2
I've installed a 600 watt power supply, and I have a terabyte hard drive that came stock with the computer. The original rig was a gateway dx4300 before I changed the CPU, GPU, and Power supply.
I run the computer with very few unnecessary programs running in the background. My process tab can't even be scrolled. Starcraft II is recommending I use ultra settings for everything. The only problem is that it actually can't play at those settings; at least not well. I get 63 FPS when the game starts, but as the game progresses and more things start appearing on the screen the FPS drops to 30-40. During big battles it can dip into the 20s, sometimes even the teens. So my question is: is this normal? Should I be seeing better performance from Starcraft II at these settings?
Also, a little unrelated, but I installed my first "unnecessary" program the other day: Rainmeter. It's a desktop customization tool. What are your opinions of this program? Is it worth it? Does it eat too many resources? I'm normally a minimalist when it comes to my computer, but I figured one program couldn't hurt that much. I have noticed that my computer takes a minute to load the desktop, which it never did before. It's the reason I don't normally use programs like this.
This is my current desktop. Too much?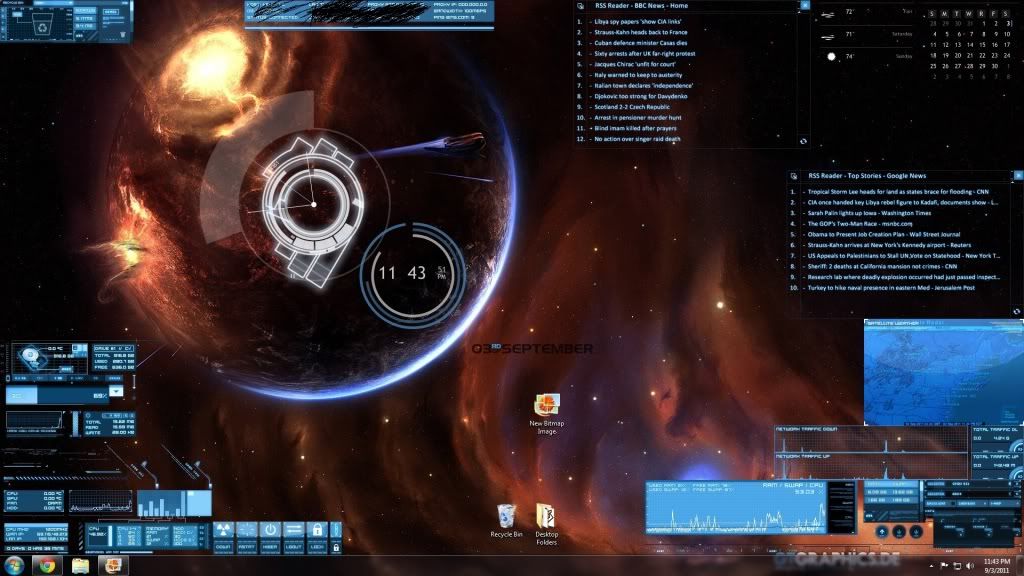 __________________