Winamp is confusing me...
Right, I have 3 plugins now (don't make remarks).
1 is to be able to play back VGM's (Genesis/megadrive music), the second to play SPC files (Super Nintendo), and one to play back NSF files (Nes).
Well, yesterday they were all working harmoniously, and I could switch between tracks as I pleased. All without a hitch.
Yesterday, on the forum where I got the VGM plugin, they also have a collection you can download of tracks, which I downloaded off a link hosted by one of the members, as the download using Utorrent, etc doesn't work anymore hosted on the site.
So, I get that, and unzip it into the folder where my VGM's are, moving my previous ones first just incase anything went wrong.
So, in goes 500 odd game music folders.
Right, this is where problems began, and I did do scans prior to opening, with no warnings or anything of the sort, and was given the all clear.
Opened Winamp and went to the folder to play some...
Got this, and others just like it. All under Debug Assertion Errors: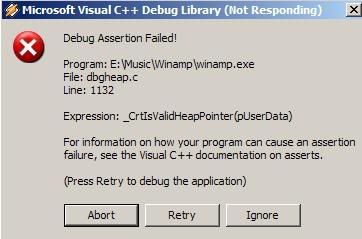 When you click to close, ignore, etc, it does the same thing. It just goes down, and then comes up with a few read errors with 000xx000, etc, etc.
So, I then think...okay, so maybe the files I downloaded are corrupted, and proceed to delete them.
I then load back up my working VGM's I had before this:
Still doesn't work. Whats worse is it happens randomly. I can be playing VGM's fine and suddenly it'll go down.
One sure way to make it go down though is to play a VGM, and then play a snes or nes file. Going back to the VGM folder or to play a file, then crashes it.
I'm confused, and at wits end with this
I have even tried a restore point. Did exactly the same thing.
I have also re-installed Winamp, re-installed the plugins, and re-installed Microsofts C++ package.
I'm lost for words
It was working before unzipping and trying to browse the folder with these new VGM files in.

__________________