Hi, i'm upgrading my system again from a P4 skt775 to a quad Q6700 as my cPU is bottle necking my EN880GT grfx card. Also I'm wacking in another 4Gb of RAM, HD and want to change from my stock cooler. My current motherboard is a (sexy) ASUS Penryn1600SLI-110dB
So CPU:
http://www.ebuyer.com/product/148900
Cooler:
This is what im concerned about
. My northbridge chipset is quite close the cooler (see image). I'm wondering wether it will fit.
http://www.ebuyer.com/product/150981...roduct_reviews
http://www.ebuyer.com/product/105994#
googling i found this on a forum - someone with my mobo using a artic 7 cooler. HOWEVER, they have a zalman, and I wonder if they got that so the coolers fitted on together?
RAM:
My motherboard can only go up DDR2800. I have 2x1GB DDR2 sticks currently wacked in. I want to get this:
http://www.ebuyer.com/product/146049
OR should I get this:
http://www.ebuyer.com/product/154644
the timings are different... one is lower. Is that good?
HD:
http://www.ebuyer.com/product/156818
- thought i'd go with 7200rpm and 32mb cache
ANY OTHER THOUGHTS?
Inside case: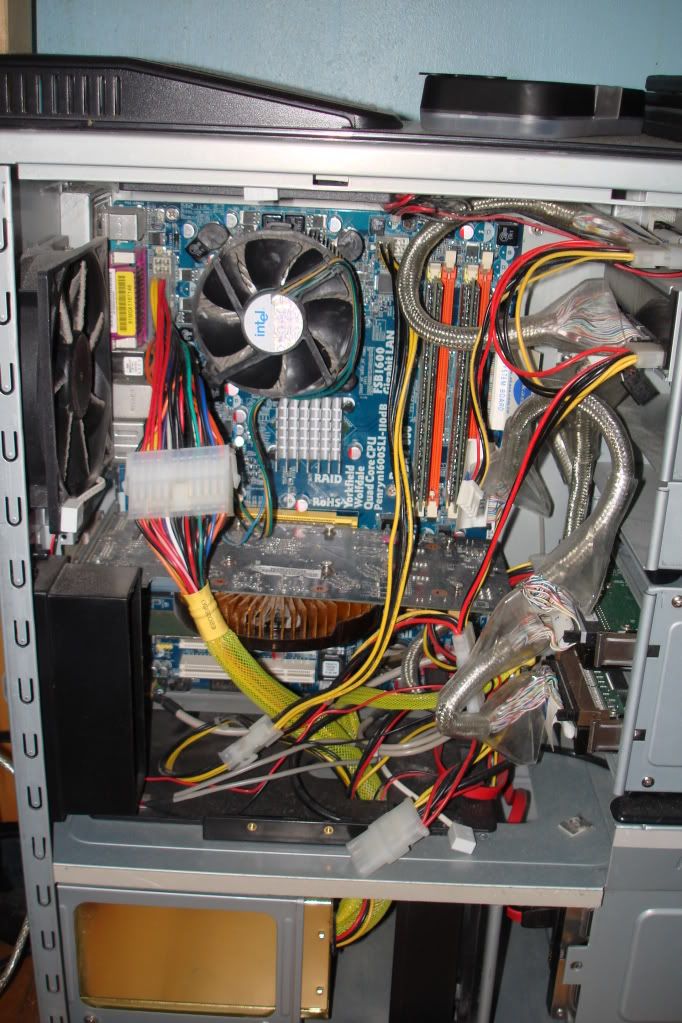 ahh well i bought the stoof anyway. got the artic cooler. the cheaper ram
only concern is my PSU (a ~£20 600W) might not hold up. When I bought it though I heard v. good things about it with people running power setups. Whether it'll hold time will tell.
95W for Q6700 (well that's what a jan 07 review said)
another review i read the other day sprouted my mobo runs > 100W
my mobo card ~ 200W
so call that ~400W
plus another say 100W (3x15 for hdd + 25W for opticals and extra stuff for computer yum yum)
so ~ 500W. I'm concerned as i wonder what the actual 'efficiency' of the PSU.
Very sloppy guessimates. Need to buy a watt meter