***EDIT: FIXED.
I uninstalled and reinstalled the drivers a few times and it finally decided to work...
Hey guys. Posting from my brother's PC right now.
Last night I updated my BIOS because I was continually getting errors about my boot failing, I dunno if that actually solved that problem but what it did do is break my internet connection. All my hardware reinstalled after the reflash and I'm not sure if it got the wireless right. I haven't tried reinstalling those drivers cause I left my driver disk at my school apartment and haven't been able to track down a download yet. But I'm working on it.
Anyway, I've tried running the network setup wizard, a system restore, and running the command netsh winsock reset to no avail. That's all I've been able to find so far. Apparently the problem is it can't ping DNS. I can connect to the home network (file sharing and such) but AIM, IE, and Firefox won't connect. I'm really hoping one of you guys knows how to resolve this problem. Here's a screenshot of the diagnosis.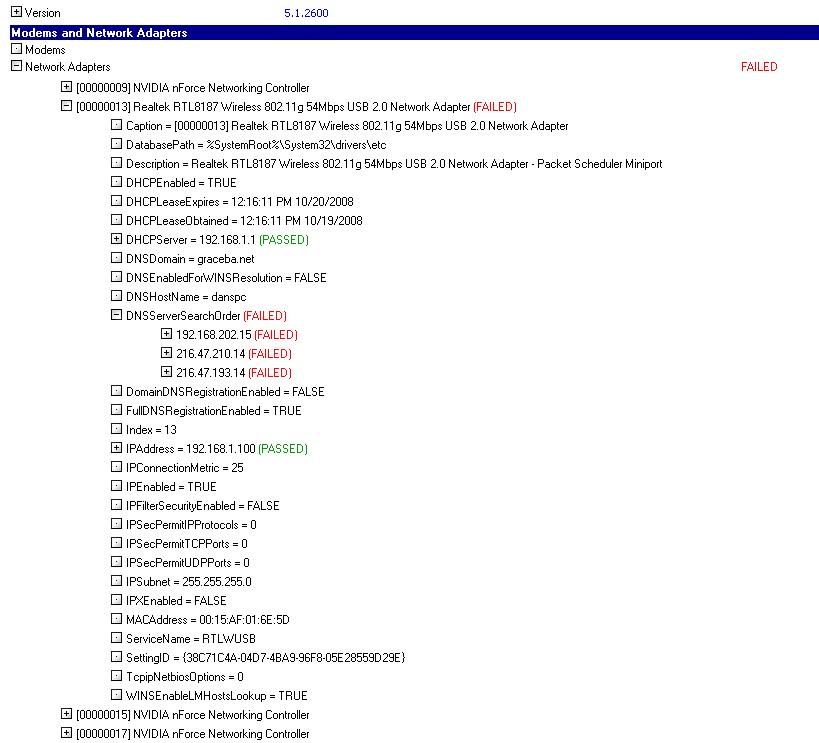 I should have expanded those failed pings but it doesn't say much IIRC, something like
ping [ip address] 32b
failed
failed
failed
etc...
Thanks guys.