Disclaimer:
This is meant for reference only. You should never rely on any piece of technology when there is a possibility of getting lost. Always bring a proper map and compass as your primary means of navigation.
You need:
Rmaps (
https://market.android.com/details?i...ert.maps&hl=en
)
Mobile Atlas Creator 1.8 (
Mobile Atlas Creator 1.8.zip - robertprojects - Mobile Atlas Creator 1.8 with SQLite lib - SVN repository of my projects - Google Project Hosting
)
How to:
1. Install Rmaps from the android market.
2. Download and unzip Mobile Atlas creator.
3. Run the exe file.
4. Set map source to "Yahoo maps" and zoom to the approximate area you want. You can zoom in with the mouse wheel and move around with right click.
5. Change the map source to "Terraserver-USA Map."
6. Select the zoom levels you want. I usually select all of them up to 16. selecting 17 will make the files excessively large without adding much detail.
7. Use left click + drag to select the map area.
8. Under "atlas content" type in the name you want to use for your map. Then click "add selection" to add it.
9. Change the format to "RMaps SQlite."
10. Click "create atlas" to download and compile the map. This may take a while depending on the area you selected.
11. When that is done, the file will be saved in the "atlases" folder. Move it to /sdcard/rmaps/maps on your phone.
12. Unplug the phone and open the Rmaps application.
13. Hit the menu button, then select more, then settings.
14. open "user defined maps" then click the name of your map. This will bring up a menu. Tick the "enabled map" box to enable it.
15. Go back to the main screen, hit menu, maps, then the name of your map to display it.
16. Enjoy.
For longer hikes, it will probably be necessary to have multiple batteries. You can always buy more manufacturer batteries, but my preferred method is with an external AA recharger (
like this
) and some NIMH batteries. This way, I can use the same batteries with my camera equipment, flashlights, etc. It's also cheaper.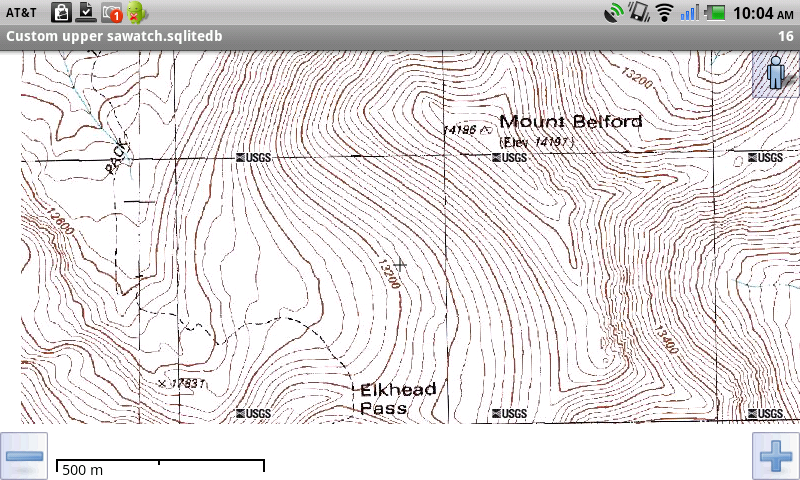 __________________